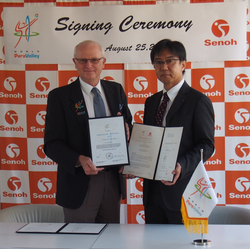 World ParaVolley (WPV) and Senoh Corporation have entered a new contract of homologation until December 31, 2020.
The contract was signed by Mr. Barry Couzner OAM, President of World Para Volley, and Mr. Tetsuya Ozaki, President of Senoh Corporation, on August 25, 2016, in Tokyo, Japan.
Senoh Volleyball equipment is recognized as being eligible for assessment and homologation in
Para Volleyball standard.
Senoh is highly honored with the contract and wishes to contribute the growth of Para Volleyball
by providing safe and high quality products for every volleyball players in the world.